Here's an idea — attempt running South America, top to bottom, in its entirety. Sounds pretty unbelievable, right?
On July 28, 2012, David and Katharine Lowrie started running. In true Forrest Gump-like style, they just kept runnin'! Their journey would cover 10,000 km (6,500 miles) – the equivalent of over 250 marathons, through some of the most awe inspiring and biologically rich ecosystems on earth.
Running South America, across the entire continent, unsupported, pulling equipment for camping, communications, science, food and water in a trailer they made from recycled materials, David and Katharine's trek began at the Southernmost tip of the continent.
They proceeded to go through the icy wilderness of Patagonia in winter, through the cloudy tropical rainforests of Childe, ascending the snow-capped Andes mountains, traversing the pampas of Argentina, crossing the Amazon, overcoming the Guyana Shield and the deserts of Venezuela, before finally plunging into the Caribbean Sea at Cabo.
When they completed the journey on October 25, 2013, they became the world's first to complete such a trek. We are inspired! And no, we will not be attempting this, even with David and Katharine's expert advice for conserving energy using minimalist running techniques.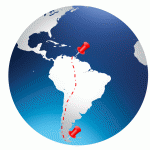 Even more impressive — their goal was to inspire and connect the people and places they met along the way using their online community as the hub, and used the latest technology to stay in touch throughout their journey. Their hope was that through their sweat, tears and determination, they'd be able to share the wilderness of South America and "rekindle people's passion for running and our amazing natural world."
Congratulations to David and Katharine for completing the journey! For more info, visit 5000mileproject.org.
* Photos courtesy @5000mileproject on twitter.