As summer officially kicks off, travelers are preparing for their warm-weather Caribbean getaways. One of the more popular destinations is the island of Aruba, a former Dutch territory 14 miles north of Venezuela. VV contributor Lindy Tolbert explores some of her favorite things to do on Aruba that are off the beach – for those who need a break from the sand and sun.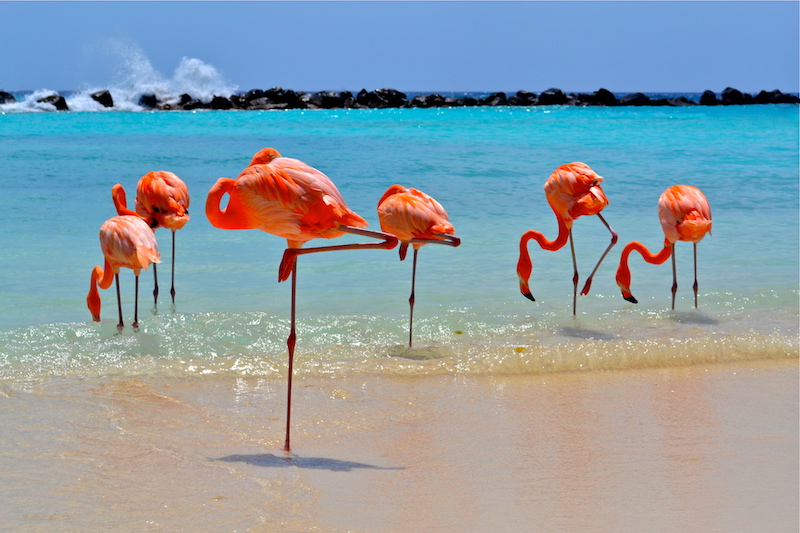 Flamingo Island/Aruba Tourism Board
When traveling in summer, my pale skin inevitably becomes a challenge (burning like a hot knife through butter), especially near the equator.  I've had to get creative with my off-the-beach activities (though I'd make an exception for Flamingo Island)! Here are some of my favorite activities in Aruba that don't involve sunbathing.
The Baby Natural Bridge/Aruba Tourism Board
Arikok National Park, on the Windward coast of Aruba, hosts a variety of sites to explore, and you could very well end up spending most of your time there.
Make sure to visit the Baby Natural Bridge and Natural Pools, a natural geological walkway carved out craggy coral rock of by erosion. This feature is a smaller alternative to its predecessor, the Natural Bridge. The original collapsed in 2005, but viewings of the similarly formed Baby Natural Bridge are possible right next to the collapsed larger version.
You can't really walk on it – conservationists want to avoid the Baby Natural Bridge collapsing as well – but it provides some stunning pictures of the craggy rock surface. The Natural Pools, also in Noord, are a fun place to take a dive and absorb Aruba's trademark blue water. Nearby is a visitor center that offers a gift shop, packaged snacks, sandwiches, soda, and alcohol.

The Aruban Flag in Arikok National Park/Aruba Tourism Board
Hours: National Park hours are 8 a.m. – 4 p.m.
Neighborhood: Arikok National Park abuts Noord, Santa Cruz, and Oranjestad.
The Oranjestad Streetcar/Aruba Tourism Board
Less than a decade old, the Oranjestad streetcar is the only passenger rail service on the island. It has a single level and a double-decker tram, both of which travel the same rail route. The start of the track is located in the port of call, and the end of the track is located in Plaza Nicky, which is the end of Caya G.F. Betticoe Croes.
The route has nine stops and goes down the main pedestrian shopping street, Caya G.F. Betico Croes.  For certain portions of the route, westbound trams go down Havenstraat and eastbound trains go down Schlepstraat, both of which offer more shopping opportunities.
The ride is a fun little jaunt and a great way to see the landscape, especially if you climb to the top of the fire-engine red, double-decker tram on a sunny day.  You get a full view of the street from the comfort of its polished wooden seats so you can scope out shopping stops!
Schedule: Sunday-Saturday 10:00 a.m. – 5 p.m., leaves every 25 minutes.
Neighborhood: Downtown Oranjestad
Aloe fields/Lindy Tolbert
Aruba Aloe is the oldest aloe company in the world, founded in 1890. Aloe is specifically suited to the desert environment of the island, and the company has fields and fields of aloe outside their factory.
The factory/Lindy Tolbert
Aruba Aloe offers tours of their factory and museum, which are held every 15 minutes and can be given in English, Spanish, Dutch, and the native tongue Papiamento. Tour guides show you how to cut the plant and take you on a walking tour of the factory where aloe is dissected, processed, and packaged. (Tour prices aren't listed on the site – make sure to contact them via their web page to find out the price for the size of your party.)

Cutting aloe/Aruba Tourism Board
There's a store at the end where you can sample or buy their aloe vera products. The facility is clean and aesthetically pleasing.  Headsets are offered for self-guided tours as well. The best part, however, is the aloe fields, where you get to see how the natural gel is harvested. It smells very earthy, much like normal aloe, and the gel looks like clear Jell-O.
Hours: Mondays to Fridays 8 a.m. to 4:30 p.m., Saturdays 9 a.m. – 5:00 p.m., Sundays from 9am – 1:00pm
Neighborhood: Hato
California Lighthouse/Aruba Tourism Board
Built in 1910, this lighthouse on the northwestern tip of Aruba was named after a steamship wrecked in 1891 by the same name. The top of the lighthouse offers a jaw-dropping overlook of the island. It's a bit of a climb, but you don't need to take the tour to get a phenomenal 360-degree view of the island.
View of California Lighthouse/Aruba Tourism Board
Make sure to wear solid shoes because of the rocky desert terrain – I wore sturdy shoes and nearly tripped several times!
Hours: Sunday-Friday 8:30 a.m – 4:45 p.m., Saturday 8:30 a.m to 11:00 p.m.
Neighborhood: Hudishibana, Westpunt, near Arashi Beach
 Founded in May 1999, the Butterfly Farm was built by William Slayter of the Saint Maarten Butterfly Farm and his partners Tony and Lori Cox.
Guided tours are provided and give information on the lifecycle of the butterflies. Instructions in safely handling butterflies are given to those interested. Hatchings usually occur in the early morning, so be sure to get there on the bright if you want to catch them in time.
This is a great stop for families to take a rest from the hustle and bustle of family travel.  Rest your feet and delight your senses!
Neighborhood: Palm Beach
Hours: 8:30 am – 4:30 pm (last tour begins at 4 pm)
Casibari Formations/Aruba Tourism Board
The Casibari Rock Formation is a large collection of scalable boulders that host petroglyphs from the native Arawaks. Stairs are built in to ease the climb to the top, where visitors are rewarded with an overlook of the entire island of Aruba.
It was a bit unsteady as far as stairs, so if you have a physical disability or have a tendency to fall, use caution. It's a  popular spot and can get crowded, so if you've had your fill, walk back down and get some bar food at the more touristy CasiBari Cafe and take in its pop culture motif.
View from the rock formations/Aruba Tourism Board
Don't forget to order a refreshing Balashi beer while there, brewed only on Aruba using desalinated water!
Balashi beer/Aruba Tourism Board
Hours: Monday – Saturday 2 a.m. – 2 a.m.
Neighborhood: north of Hooiberg
Alto Vista Chapel/Aruba Tourism Board
Also known as the Pilgrim's Church, the Catholic Alto Vista Chapel is a quaint yellow and brown chapel that blends into the desert landscape until you walk inside and are greeted by a cerulean altar to the Virgin Mary.  The building itself is no bigger than most one-room schoolhouses.
The altar/Aruba Tourism Board
The bright colors are a surprise considering the landscape and building exterior but overall gave me a welcoming feeling. The road leading up to the church is also peppered with the stations of the cross, almost as if preparing you for what you're about to see.
Though it is small, it is a stamp of the history of colonization and the enduring Catholic faith on the island.
Alto Vista exterior/Aruba Tourism Board
The Alto Vista Chapel as it stands now was founded in 1952 by an Aruban woman. Her family preserved the cross of the founding missionary, who established the original chapel in 1750.
Hours: Services are Tuesdays at 5:30 p.m.
Neighborhood: northeast of Noord
Bushiribana Gold Mill Ruins/Aruba Tourism Board
When gold was discovered in the hills of Aruba in 1824, there was a gold rush on the island, and Bushiribana Gold Mill was built to process the ore. It operated until about 1881 and was abandoned thereafter due to the island running out of available gold.
The blackened rock of Bushiribana Gold Mill looms large over your head before you enter the ruins. The ground has a habit of shifting as you scramble up the sandy orange earth to the interior, so make sure you're wearing strong shoes while you're perusing the ruins.
Cairns
Additionally, visitors have begun building cairns, or little rock stacks, just outside the ruins, and while the practice is officially discouraged as it disturbs the natural habitat, I have to admit it is really beautiful to see a sea of cairns flooding the landscape.
That being said, please help out the national parks and the small wildlife within and don't build your own. Leave no trace, as the saying goes…
Hours: 24/7
Neighborhood: Santa Cruz
Land sailing/Aruba Active Vacations
Landsailing, which is basically how it sounds – sailing on land – involves sitting on a triangular platform with a wheel on each corner and getting pushed around flat sandy terrain by the wind. The speeds can pick up pretty quickly, but not to worry; for $60 a person, you'll be given an instructor at the beginning of the 2-hour tour run by Aruba Active Vacations.
When you meet at the Fisherman's Huts, you'll be given a water bottle and safety equipment, but you'll want to be sure to wear sunscreen, clothes you don't mind getting dirty, sturdy shoes, and sunglasses.
Avoid that sunburn by covering up and rocketing around in the sand! You can also try out windsurfing and kitesurfing through the company if you want to change up your activities.
Neighborhood: Palm Beach
Hours: Only available in the morning, starting at 8:30 am
Shopping
The Wharf/Aruba Tourism Board
Even if you're not big on retail therapy, it's fun to take yourself on an architectural tour of some of the shops on the wharf. Many facades feature the multicolored Dutch colonial style for which Aruba is known, and are truly a vivid example of the Dutch influence on the island.
Dutch colonial architecture/Aruba Tourism Board
Aruba gained independence from the Dutch Antilles in 1986, and the main pedestrian shopping thoroughfare, in turn, gained its name from the parliament member named Betico Croes, who championed the movement.
It extends half a mile and the streetcar runs through the center of the road. Aruba has a low duty percentage and no sales tax, so there's a wide variety of tourist-friendly shops here, from local foods and handicrafts to high-end European jewelry and watches.
Caya G.F. Betico Croes/Aruba Tourism Board
Of course, there are also numerous flea markets nearby, which are always intriguing to pass through, if only for the people watching! The vendors host a collection of tchotchkes and brightly colored clothes made by locals.
A local flea market/Aruba Tourism Board
Royal Plaza
The Royal Plaza is a vivid pink shopping center decorated in the Dutch colonial style situated right on the wharf of Oranjestad. It hosts a multitude of luxury brands, so if you like to shop European, this is your place. (Plaza Daniel Leo also has similar stores with Dutch colonial facades worth exploring.)
Iguana Joe's, on the second level of the plaza, is a flavorful spot to grab lunch and is ideal for its harbor overlook of the Caribbean Sea.  They have a fun (if loud) cantina-style ambiance, strong margaritas, and an excellent view of the street for people-watching opportunities.
Mojito's Cantina and Grill becomes a salsa club at night, and you can get a sample of some salsa beats and reggaeton to top off a day of sightseeing. The best part is that it's located close to several flea markets, Caya G.F. Betticoe Croes, and the Oranjestad streetcar. If you walk a few blocks along to wharf toward the marina,  you can also stop by the "I Heart Aruba" sign for an Instagram-worthy snap.
I Heart Aruba sign/Lindy Tolbert

Hours: Depends on the store
Neighborhood: Downtown
Sunset/Aruba Tourism Board
Sunset
Of course, one of the best activities that won't cause sunburn is watching the sunset! Aruba has some of the best… and if you can catch it alongside a Caribbean divi divi tree, even better. The real treat is catching the sun as it goes down behind one of the numbers yachts and sailboats cruising around the island.
Check for sunset times based on when you visit the island, as they change depending on the season.
The Caribbean divi-divi tree/Aruba Tourism Board
Other places and activities to consider in Aruba that aren't the beach
Tours: ATV, motorcycle, Jeep, and trike tours, Aruba walking tours and the Kukoo Kunuku painted bus tour
Outdoor activities: Horseback riding, snorkeling, kayaking, yachting, and Jolly Pirates Cruises
Renaissance Island Plane Wreck/Aruba Tourism Board
What about…
Some may be curious about Natalee Holloway's tragic 2005 disappearance and wonder if Aruba is safe to visit. Yes, it is! Aruba is known as one of the safest islands in the Caribbean.
With more than 1.5 million visitors a year, safety is a top priority. Tour guides won't shy away from the subject of Holloway, but it's more whispered about amongst American tourists than addressed in island tours.
It's still always a good idea to use common sense safety precautions, of course, no matter where you travel.
A yacht/Aruba Tourism Board