If you've ever been to the Caribbean, you've likely noticed electric blue drinks at one venue or another. What's in these blue drinks, and what makes them so popular? VV contributor Lindy Tolbert looks at the history of the Blue Curaçao liqueur and how Caribbean agriculture shaped the development of this citrusy mixer.
Written by Lindy Tolbert
Even though I wasn't a huge drinker in college, it was impossible for me to escape the ubiquitous, electric blue "AMF" – a mixed alcoholic beverage with a NSFW name that just wouldn't quit.
It was sure to get a good buzz going. But what gave it that cerulean color?
The star of the show: Curaçao liqueur.
Isn't that orange?
Color aside, the alcohol ironically got its name from a Latin phrase meaning "Golden Orange of Curaçao," but it's also gone by the Spanish nickname crème de ciel, or "cream of heaven."
The sweet liqueur is known for its orange aromatics and flavor and is used in a similar way to Triple Sec, as an added boost of citrus to many alcoholic and caffeinated drinks.
It comes in five colors: clear, red, orange, green, and blue.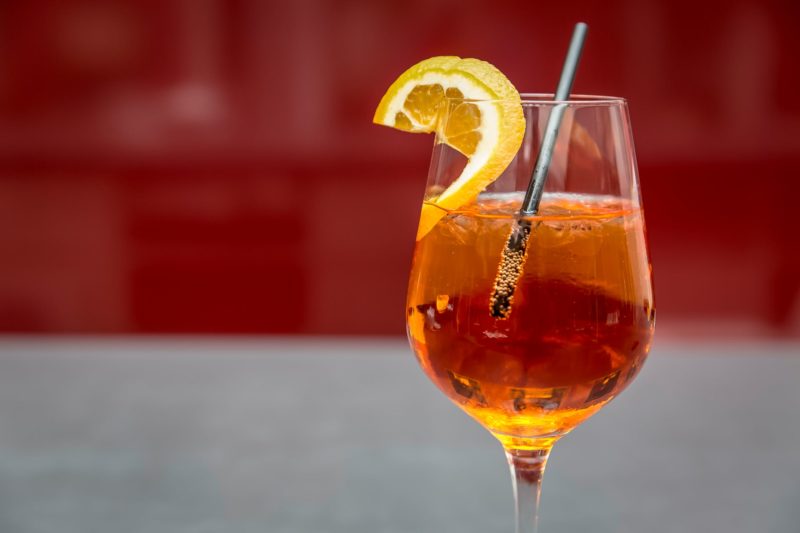 Blue is the most well-known, likely due to release of Elvis Presley's movie Blue Hawaii, which popularized the drink. Cocktails can be infused with other flavors as well, such as chocolate, rum raisin, and coffee.
But what exactly is Blue Curaçao, and where did it originate?
The history of Blue Curaçao liqueur
Curaçao is a small Caribbean island next to Aruba, located about 60 miles off the coast of Venezuela. It was settled by the Spanish in 1499 (though the native Arawaks were living there already).
They brought with them a variety of agricultural goods, including Valencia orange seeds in 1527. As a result, Curaçao's blue liqueur story began.
The Valencia orange sprouted a descendant unique to Curaçao, known as the Laraha orange. However, the Spanish faced a problem using it at first: the flesh of the Laraha orange is bitter and unappetizing.
Seriously, don't eat it unless you love all things bitter. The outside of the orange actually looks more like a lime.

But as the Laraha orange migrated back to the Iberian Peninsula, people experimented with the fruit more and more. Turns out that the oil, extracted when the peel is crushed, smells great!
Some claim the Curaçaoan distillery Senior & Co. was the first to develop liqueur from the Laraha peel, while others claim that Dutchman Lucas Bols of The Lucas Bols Distillery had already concocted a popular Lahara orange-based liqueur by the late 1500s.
Either way, Bols secured a stake in both the East and West India Trading Companies by the time the Dutch took over Curaçao in 1634, which ensured he had a direct pipeline to spices and the bitter Laraha orange for his drinks.

Senior & Co. was founded by a Sephardic Jewish family in 1896 and is the only facility that produces genuine blue Curaçao liqueur, as they exclusively use the Laraha orange. The facility is currently located in the capital, Willemstad. Other iterations are made worldwide by different companies, but none use the Laraha orange.
How is Blue Curaçao liqueur made?
There are a few steps involved in the creation of this bad boy, which Senior & Co. outlines on their site. While most of the recipe is proprietary and intentionally vague, we do know this — it takes 17 days to make. Their instructions are as follows:
Remove the peel and let it dry.
Submerge the peel in water and alcohol and let it soak.
After several days, remove the peels.
Add spices. (No specific spices are mentioned, and each brand has a different mix, but sugar, nutmeg, cloves, and cinnamon are often included in imitation recipes.)
Place the peels in a gunny bag with spices.
Hang the bag in a heated 120-year-old copper still for three days. Make sure to include 96% sugar cane-derived alcohol.
Cool for 1 day.
Add water.
Distill for 3 days.
For a blue hue, add E133 Brilliant Blue food colorant. Some enthusiasts have surmised that the original drink was colored blue with the Butterfly Pea flower, but there's been no historical confirmation of this.
The product is sweetly citrus-forward and delicious.
Hot tip
If you're looking to sample other alcohols derived from the Laraha orange, try Ròm Bèrdè, which in the island's native language Papiamento means "green rum."
It's unique to Curaçao and manufactured at a local dive bar in Otrabanda named Netto. They've been making it since 1954 and the rum is a favorite of many natives, according to a local I met on my trip.
Despite deriving from the orange, it tastes a bit like black licorice, so if that's not your flavor I'd steer clear of this drink.

A wall mural at Netto.

I'm close with my family and travel with them a lot. Here my mother is getting a detailed history of the bar from our local tour guide.
Tell us your favorite Curaçao liqueur drinks in the comments below, or check out some listed on Senior & Co. that you can try at home! Check out another Voyage Vixens article on rum if you want to keep learning about alcohols.